Emergency power bank homemade
When you need a power bank probably you have all the component at home, I had a problem and I had to make one quick.
Components
I need a power bank to do some test with my Arduino, I'm going to use (you can use a simple 9v battery for arduino but It isn't rechargeable and I don't know how much test I need) a small rechargeable power pack:
TP4056 Lithium Battery Charger Module
0.9V-5V to 5V DC-DC USB Voltage Converter Step Up Booster Power Supply Module
18560 Battery holder
18560 Battery buy from here, I create a battery capacity checker and I see that the majority of 18650 battery on the net have fake capacity (the battery on test is 4500mha declared and 1100mha real)
2 position switch

Here you can find the tp4056 AliExpress - AliExpress Type-c
Here the step up AliExpress
Here the switch Aliexpress
The battery holder
You can buy here.
The batteries &nbps;AliExpress 18650 3.7v 3400mah
Connection schema
In my lab I have various device (buy to build something) but I think that a little emergency rechargeable usb power supply/battery pack is usefully, so with 2 simple component we are going to create one.
I buy TP4056 Lithium Battery Charger Module to create my solar power weather station.
And I have 5 step up usb module to recharge my phone with various battery, It's convert voltage from 0.9-5v to constant 5v.
In the connection schema you can see that we must add a switch before step up module because to get 5v It drain continuously current.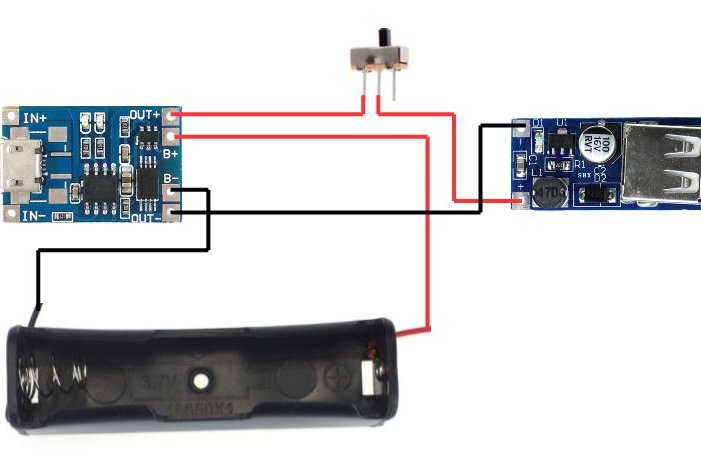 It can be used as power bank or UPS, the recharge module can recharge and give power supply at the same time.
The connection is simple, TP4056 battery output go to battery, TPR056 output go to step up usb module, on the positive wire must add a 2 position switch.

Power Bank: at Work
A minimal video of standard usage of this power bank/UPS.
Thanks
Of course this short article is the prequel to something else, the problem is to test my DHT12 library in the refrigerator.