FlyingBear Ghost 5 enclosure: top cover
Finally I decided to buy another 3D printer, this time I choose the FlyingBear Gost 5. I buy it because for 250 € it has solved many problems of other printers like Ender or Artillery (with the same price).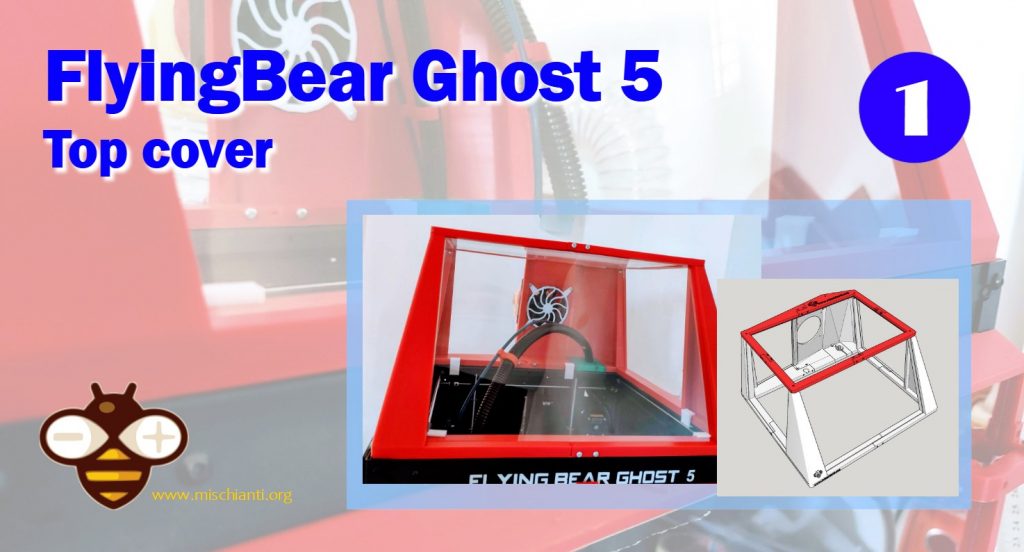 I made a case because I would like to print a more dangerous material like ABS, and to do that I create two different rears of the top cover, one standard and one with a fan for extracting harmful fumes.
The result is this.
I'm very happy about that, so I'm going to share with all.
Top cover
I create a top cover that can be used with stock cable, and I create 2 rear part one with an extractor fan one without. I recommend using the one with the 90mm 24v fan, with good extraction power, so as not to overheat the inside of the box too much and preserve the motors.
90mm fan for suction on Aliexpress 90mm x 38mm fan DC 24v
To assembly all parts I use M3 pan head screw with the relative nut.
Screw here on Aliexpress Countersunk Head Screw - Aliexpress Pan Head Screw - Aliexpress nut
To close all i use the polycarbonate of the ikea frames I had aside. It's very thin, but It's perfect for our scope.
I think you can order polycarbonate a4 sheet of 0.5mm like in the link bottom.
0.5mm or 1mm sheets on Aliexpress A4 polycarbonate sheet - Aliexpress 3mm sheet
I use PLA to print all, but i think ABS or PETG can be better, for the hole of cable I print in TPU and It's a good solution in my case. The clip It's better to use ABS or PETG because PLA in the long term can crack.
Top of the top cover
It formed by 4 piece connected with 8 M3 screw and nut.
Bottom part of top cover
Here the piece shared from all version.
Rear with fan adapter
Bottom cover Rear right with fan hole
Fan frontal grid
Fan 65mm tube extractor adapter
Rear without fan adapter
Bottom cover Rear right without fan
Cable adapter in TPU
Cover clip for fixing
A set of clip to block top cover.
Thanks