ESP32: pinout, specs and Arduino IDE configuration – Part 1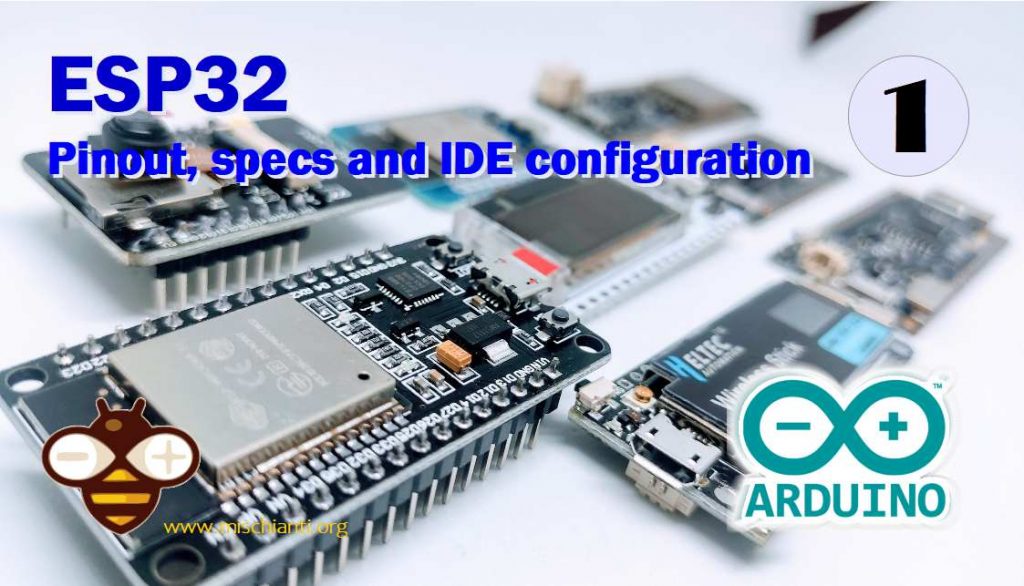 ESP32 details
I like this device It's very powerful and low cost with an effective value WIFI microcontroller.
You can find It here AliExpress ESP32 Dev Kit v1 - AliExpress selectable - AliExpress TTGO T-Display 1.14 ESP32 - AliExpress NodeMCU V3 V2 ESP8266 Lolin32 - AliExpress WeMos Lolin32 CP2104 CH340 - AliExpress ESP32-CAM programmer - AliExpress ESP32-CAM bundle - AliExpress ESP32-WROOM-32 - AliExpress ESP32-S
Specs
Remember that exist a lot of variant of this device, some have a specified killer function, so this is a generic specs description.
Processors:

CPU: Xtensa dual-core (or single-core) 32-bit LX6 microprocessor, operating at 160 or 240 MHz and performing at up to 600 DMIPS
Ultra low power (ULP) co-processor

Memory: 520 KiB SRAM
Wireless connectivity:

Wi-Fi: 802.11 b/g/n
Bluetooth: v4.2 BR/EDR and BLE (shares the radio with Wi-Fi)

Peripheral interfaces:
Security:
Power management:

Internal low-dropout regulator
Individual power domain for RTC
5μA deep sleep current
Wake up from GPIO interrupt, timer, ADC measurements, capacitive touch sensor interrupt
Pinouts
This device is very powerfull, you can see that there are a capacitive touch pins, more than one UART various Analog pin.
How to
You must download drivers for USB chip, probably you have an esp32 version with cp2102, but exist variant with ch340 chip.
Than you must configure your Arduino IDE
Add the boards to Arduino IDE
First you must add esp32 url descriptor to your IDE
https://dl.espressif.com/dl/package_esp32_index.json
Go to File –> Preferences and add the url on "Additional Boards Manager URLs"

Than you must add new board in Boards Manager
The boards to select is esp32
Select correct board
Now you can select (if you have like me that model) the ESP32 Dev Module

Now you can upload your sketch.
Thanks
Firmware and OTA update management
[…]